Dubai Desert Safari: Tanoura Show, Dune Bashing and BBQ Dinner
Middle East » United Arab Emirates » Dubai Emirate » Dubai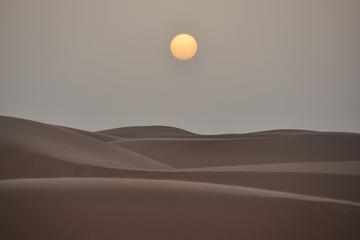 (5.0)
Duration: 6 hours
Departs: Dubai, United Arab Emirates
Price from USD 69.00
Book Now
Enjoy an ecstatic dune bash as the sun cruises through the sky and slip away on your sand boards through the desert sands. Indulge in an array of delights along with Arabic tea & coffee with dates, snacks and unlimited soft drinks. Capture yourself wearing the traditional Arabic attire and henna tattoo. Devour the delicious continental dinner followed with an amazing belly dance and thrilling traditional tanoura show.
We start with a pickup from your location within Dubai.

After that we head into the desert where our first stop would be to deflate the tires to maintain stability on the dunes.
We then proceed for a dune bashing session that lasts between 30 to 45 minutes and also comprises of a stop for photographs of you and the endless desert in the back.

After completing this we head to the Bedouin camp where you would be welcomed with Arabic tea / coffee and dates, along with some snacks.

There would be opportunities to enjoy sand boarding, camel riding (short rides), photographs in Arabic attire, henna (temporary tattoos) and sampling the sheesha (water pipe) before the belly dance and tanoura show begin. The buffet dinner and live barbecue will be opened between these shows and there will be complimentary soft drinks and water available at the camp.
Upon completion of camp activities, we head back to your location in Dubai.

« All Activities